TELEGRAM
​ NEWSPAPER
​10748 W. Jefferson Ave, River Rouge, MI 48218 313-928-2955​​ Office 313-928-3014 Fax
​Email: telegram@telegramnews.net​

Copyright 2009 Telegram News
​Get your ​Subscription Today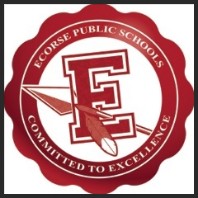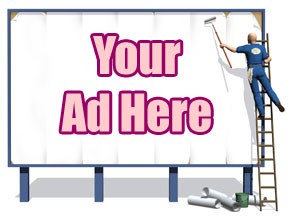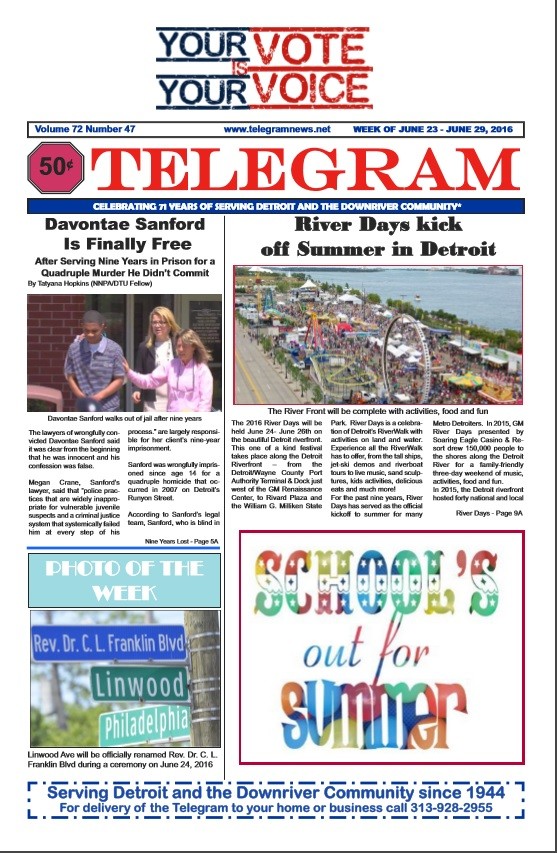 River Days Kick Off Summer Fun in Detroit!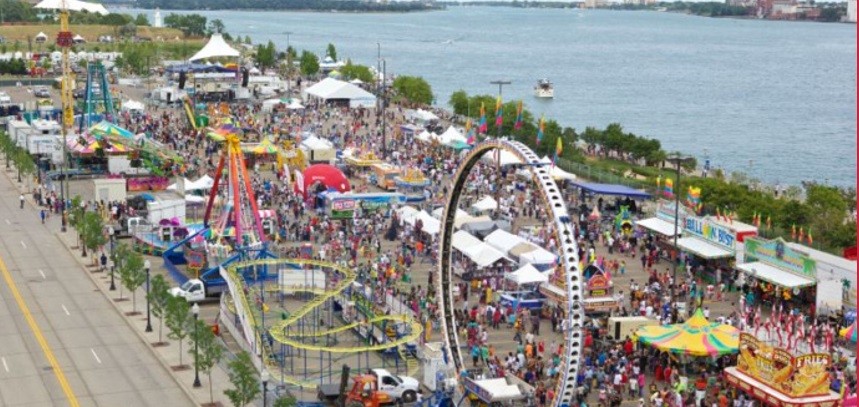 The River Front will be complete with activities, food and fun
The 2016 River Days will be held June 24- June 26th on the beautiful Detroit riverfront. This one of a kind festival takes place along the Detroit Riverfront – from the Detroit/Wayne County Port Authority Terminal & Dock just

west of the GM Renaissance Center, to Rivard Plaza and the William G. Milliken State Park.
River Days is a celebration of Detroit's RiverWalk with activities on land and water. Experience all the RiverWalk has to offer, from the tall ships, jet-ski demos and riverboat tours to live music, sand sculptures, kids activities, delicious eats and much more! For the past nine years, River Days has served as the official kickoff to summer for many Metro Detroiters. In 2015, GM River Days presented by Soaring Eagle Casino & Resort drew 150,000 people to the shores along the Detroit River for a family-friendly three-day weekend of music, activities, food and fun. In 2015, the Detroit riverfront hosted forty national and local musical acts, including headline acts Gladys Knight and Bell Biv Devoe. offered a wide variety of music for all tastes. The festival also featured our returning Kids Zone which featured live theatre, music, face painting and arts and crafts, outdoor activities from the Michigan DNR more than 25 rides and games along our midway, a Taste of Detroit food court, buskers/traveling entertainers, a Friday night bike night
and several water-related activities, including popular tours on the U.S. Coast Guard cutter, the one-of-a-kind Tall Ship, Appledore IV, rides on the Diamond Jack River Boat tours and live jet ski demonstrations. For more information about 2016 River Days click on the button below.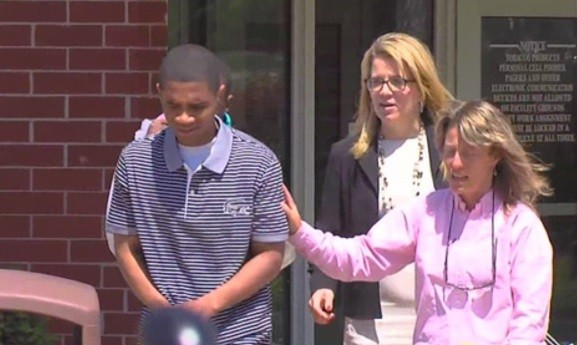 Davontae Sanford Is Finally Free After Serving Nine Years in Prison for a Quadruple Murder He Didn't Commit
By Tatyana Hopkins (NNPA/DTU Fellow)
The lawyers of wrongfully convicted Davontae Sanford said it was clear from the beginning that he was innocent and his confession was false.
Megan Crane, Sanford's lawyer, said that "police practices that are widely inappropriate for vulnerable juvenile suspects and a criminal justice system that

systemically failed him at every step of his process." are largely responsible for her client's nine-year imprisonment.
Sanford was wrongfully imprisoned since age 14 for a quadruple homicide that occurred in 2007 on Detroit's Runyon Street.
According to Sanford's legal team, Sanford, who is blind in one eye was approached by homicide investigators as they canvassed the neighborhood about midnight, just a few hours after the shooting in September 2007. They said law enforcement officials convinced Sanford to go to the station to tell them about information he may have had about the crime. The officers received permission from his grandmother to take him to police headquarters for questioning.
Just 14-years-old, Sanford was picked up by police in his pajamas, was questioned for nearly 24 hours over the course of two days without a parent or lawyer present, according to his lawyers. On the second consecutive day of questioning, Sanford confessed on video to being involved in the homicide. He subsequently entered a guilty plea in the middle of trial, once he realized his defense attorney was not going to do anything to defend him, said David Moran, Sanford's Lawyer and director of Michigan Innocence Clinic.

Continued in this week's edition.​​